100% Bioactive Collagen Peptides
0% fat
0% sugar
95% protein
18 amino acids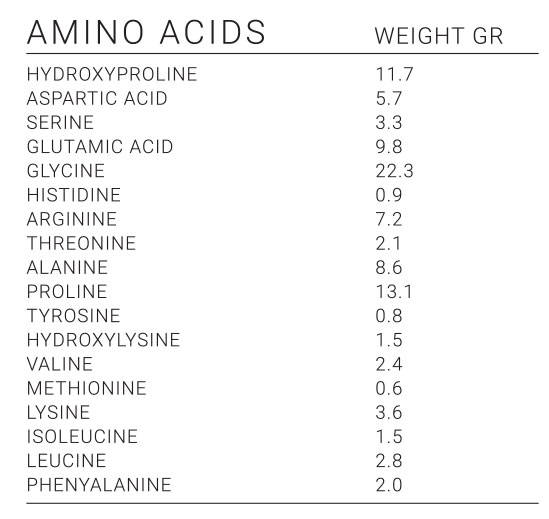 Add 2.5g (approx 2 teaspoons) to any hot or cold drink and drink daily. Can be added to hot drinks and will not lose potency. Fully dissolvable in hot or cold liquids and tasteless and odourless. Store under 30° C in a dry area
100% bioactive collagen peptides
Clinically tested for bio-availability and potency
Specific collagen peptide molecular weight on average of 2kDa
Shown to stimulate collagen production in the skin
Highest-quality animals from global certified livestock welfare animals
Superior amino acid profile
Superior dissolvability and tasteless
High bioavailability for easy and quick digestion
Certified Non-GMO
Certified Kosher
Certified Halal
No fillers, flavourings, soy, corn, dairy, sugar, chemicals, fake flavourings, preservatives, artificial colours, stabilisers or food acids or gluten. 
Stringently tested for pesticides and contains no pesticides or heavy metals.
Low molecular weight to stimulate collagen production in your skin cells. 
Globally sourced from small-scale farmers.
Created in Byron Bay, Australia. 


WHAT'S NOT IN OUR COLLAGEN
Fillers and flavours
Low quality hydrolysed protein
Factory farmed animals (including factory farmed fish)
Organic fruit and vegetable powders claiming to be collagen
Gluggy and horrible tasting and smelling collagen
Harsh flavours and fillers which can cause bloating and upset tummy 
Preservatives, sulfides, peroxides, flavours and additives 
Shellfish
Lactose
Is this product safe for me to take when pregnant or breastfeeding?
Yes! Our Miracle Collagen is 100% fine for you to take if you're pregnant or breastfeeding.
Is Miracle Collagen Vegan?
Nope, actually, there is no such thing as "vegan" collagen. The companies that are promoting a "vegan" source of collagen are simply misleading you with their marketing. Collagen, by very definition is the connective tissue found in animals. If you'd like to know more, please take a moment to look at this blog post for more info.
Is this safe for my kids to take?
Yes, Miracle Collagen is fine for children to take. We love it mixed into smoothies.
Where do you source your collagen for Miracle Collagen?
We scoured the globe to source the most potent bioactive collagen for you, because we don't settle for anything less than the best (and neither should you). Our collagen comes from global sources, including Germany, Brazil, Sweden, Switzerland, Norway and others. You can be assured that we have the highest level of stringent quality control and assurance.
Is this shelf stable (do I need to refrigerate it?)
No refrigeration necessary. Just keep it in a cool dark place.
Is this just a protein powder? 
Whilst our Miracle Collagen contains just protein, it is not designed as a pure protein powder. The difference with our incredibly high-quality bio-active and bioavailable collagen peptides is that they have a collagen-stimulating effect on skin cells. So that after taking it, you skin cells are shown to actually produce more collagen for bouncy, plump skin. It's far superior than a protein powder. 

When can I expect to see results? 
Every individual is different, so we can't offer guarantees about when you will see exact results. However, if you read the reviews below you will see that most people experience results within 30 days of taking 2 teaspoons of Miracle Collagen daily. 

Can I add the Miracle Collagen to Beauty Renewal or other foods or drinks?
Yes absolutely! And because it's tasteless and odourless you won't even know it's there.

How often should I take Miracle Collagen?
Our potent Miracle Collagen is designed to be taken daily for best results. In fact, because it's a high-quality food product, it can be taken twice a day if yo'd like deeper nourishment.
Does it contain shellfish?
No, it doesn't.
Is it lactose-free?
Yes, it is lactose-free.
Is it certified halal?
Yes, it is!